Look out for our A to Z to parenting on our Facebook, Twitter and Linkedin posts. Here's some to get you started. If you have any of your own please do let us know.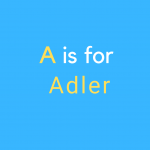 A is for ALFRED ADLER.
Sharing Parenting programmes are based on Adler's theory that 'all behaviour has a purpose'. Do you often wonder why your child wants your attention as soon as you try to make a phone call? It is likely they are trying to fulfill their NEED to CONNECT with you. At Sharing Parenting we support parents, carers and professionals to help them find the reason (or need) behind any challenging behaviour.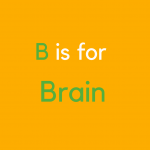 B is for BRAIN.
Did you know that how we behave with our children when they are young can determine the way the brain structures? Modelling kindness and respect and supporting your toddler or child to learn such as to wait, take turns, say please and thank you helps them to regulate their first emotions (such as anger) and make connections from the front part of the brain to the back (which helps them learn about others and empathy).   The brain 're-prunes' in the teenage years too – Have you ever wondered why some of your teenagers behaviours are similar to when they were a toddler? At our Sharing Parenting Programmes we look at the changing brain in Raising Toddlers, Raising Children and Raising Teens Let us know if you would like us to book you a FREE place.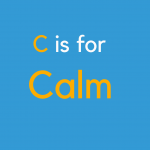 C is for CALMING techniques.
When children (and indeed everyone) gets angry they can get what's called 'emotionally flooded'. This means all rational thought disappears and is replaced with a rush of strong emotional feelings (such as frustration or anger).
As the brain floods it passes the ears so makes it difficult to listen and reason. We need to support our children to calm down and having a friendly chat or just telling them to 'calm down' is probably not going to work at this point – if you've ever tried to reason with a child who is in the middle of a tantrum you'll know what I mean!
Breathing slowly, counting to 10, blowing real or imaginary bubbles, laying down with a teddy on their chest and watching it rise and fall, sitting like a frog, giving yourself a hug are all strategies which will help calm the child, the brain and the situation.
It is a good idea to show your child and practice these strategies before the next outburst when they are calm and will listen and in a better place to understand what you mean.
You and they can then be ready when they are feeling emotionally flooded and you can remind them to blow the bubbles or watch teddy etc. Remember too that children often feel scared and confused after a tantrum or emotionally flooded moment so as soon as they have calmed down be ready to 'catch them being good' (however small) and reassure and encourage them positively.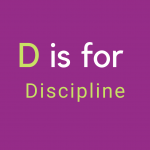 D is for discipline
Effective discipline 'teaches' children what is right. This is different from punishment which focuses on what is wrong.
The most important thing you can do for your children and teenagers is to keep open communication and protect their self esteem. This in turn will help them make positive choices in life.
Punishment is based on revenge, is harmful to the parent-child relationship and even though misbehaviours may stop this is because of fear and anger and does not teach children to make positive choices in the future.
Discipline is based on teaching and learning, teaches children new positive behaviours and helps them feel safe and learn to be responsible.
You can find more about these positive behaviour strategies on our courses.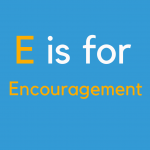 E is for Encouragement
Give them COURAGE. Focus on the effort that your children are putting into something (however small rather) than the end result.
Encouraging words and actions during the process will have a big effect on your child's self esteem and their motivation to carry on or have the courage to start something new.
Learning to have a go even if they do not always succeed (or be the best) at something are good skills for life.
You can find more about positive strategies for children and professionals working with families on our courses.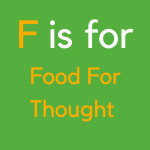 F is for Food for Thought
Did you know we run a 'Food For Thought' course for parents?
Many parents are concerned about their child's change of behaviour around food – often at around 18 months or 2 years old when they learn the word 'No' and start to assert themselves.
On this progamme we look at:
Feelings around food – Where do they come from/ how can we change these?
Making changes – and how to do this calmly and on a budget
Healthy diets – what is actually good for us and our children and why?
Meal times – and the challenges around this time
The power of food and behaviour changes – How does what we eat really affect our and our children's behaviour?
Please contact us for more information or to register your interest on our next course.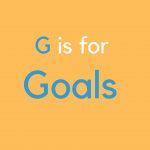 G is for Goals
Are your parenting goals realistic? On our programmes we say "there's no such thing as a 'perfect parent".
As parents we often put unrealistic expectations on ourselves and then feel bad when we don't live up to them!
As long as you are doing your best that is usually good enough. A bit of positive 'self talk' can work here. "I am proud of myself for doing my best, I can do this, everyone has bad days" etc. This is also good 'modelling' for your children.
Our children need to know that it's OK when they make mistakes or have a bad day too.
Keep the behaviour separate from the person and reboot, after all tomorrow is another day.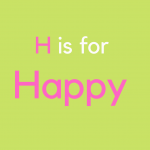 H is for a Happy home
Isn't this what every parent wants for their child?
We receive positive feedback all the time from parents and carers who have been on our courses and tell us they now have a calmer household.
A few simple, but effective, tips and strategies can make all the difference such as 'don't say don't'.
Try something right now …DON'T think of a blue elephant! What are thinking of? I'm guessing a blue elephant or at least an elephant! That's because it's very difficult to not visualise something when the word has been said.
Think about what you DO want your children to think of or do such as 'Stay on the path" (instead of 'don't run on the road') or 'Hold my hand' or 'Put your coat on the hook' (instead of 'Don't leave your coat there').
It takes practice and if you find yourself saying 'Don't' follow it up with a DO.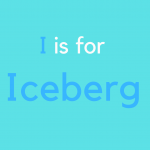 I is for Iceberg
Think of behaviour like an iceberg. The part of the iceberg you can see is the tip the hidden part is bigger (like an upside down triangle).
The BEHAVIOUR you see is often the tipping point. There is usually something else that is behind or led to the behaviour.
Are they hungry? Tired? Feeling scared or insecure? Are they feeling left out? It's easy to jump to the wrong conclusion or try to deal with the behaviour that is on front of you.
As a first response it's always a good idea to feed and water them, give them some one to one time and try and listen to what might be going on for them. We call this the NEED behind the behaviour. You can find out more on our programmes.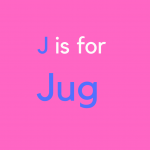 J is for Jug
Did you know parents can be better parents when they take out for themselves?
Imagine your energy as a jug filled with water. When you wake up (after a good nights sleep!) your jug is full.
As your day progresses you slowly empty your jug – you make the kids breakfast and spill the milk on the floor, the children remind you they didn't do their homework, an unexpected bill comes in the post, as you leave for school your bike has a puncture – before you know it your jug is half full or empty!
How do you think you will cope now when something else goes wrong?
When our jug is empty it is difficult for us to stay calm and model the behaviour we want to see from our children.
So how are you going to fill your jug over the day?
Suggestions from parents on our programmes include: sitting down with a coffee, taking 5 minutes to look at a magazine, phoning a friend for a chat, taking a bubble bath, going for a walk, going for a swim etc.
As we refill our jug we will be more able to cope with life's challenges and better role models for our children.
Of course life is not always perfect and it is not always possible to fill our jug when we most need it, or we start our day with an empty jug (if we have been up in the night). On those days recognise that you are running on empty and lower your expectations for the day. Instead of tackling the 20 things on your 'to do' list, be kind to yourself and only do the essentials for the day and plan (and arrange with someone who can support you) when you can next refill your jug. Your children will be glad you did.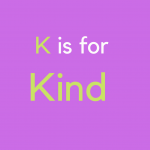 K is for Kind
Of course we all want to be kind and we want others to be kind to us but sometimes when we are stressed (and our jug is empty) it is easy to say unkind things.
Our 'parenting style' (look out when we get to P is for…) will have an influence on our children's self esteem and modelling kind behaviours to them will help them to be kind to others to.
An 'assertive' parent will be kind even when they don't want to, stay calm – count to 10 or STOP and THINK before they ACT and say sorry when they have said or done something they know was wrong.
Kindness is infectious so try to be kind and pass it on.
Please contact us for more information or to register your interest on our next course.