"Would just like to say a big thanks to you for this morning, as you said it has been a long time since I have sat and had a face to face chat to someone. Haven't felt this good in a long time. Have talked through your idea, am going to really look into it".
Rich, our Fresh Start Worker would love to hear from you if you are looking to return to employment, volunteering or training.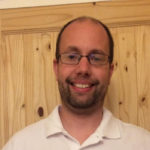 Fresh Start – LIFE Aims and Activities
The Sharing Parenting Fresh Start Project is all about coming alongside parents and carers thinking about their future, and offering advice, support, and encouragement as they decide their next steps forward.  We want to help people to get the best out of LIFE by building their confidence, developing their skills, and exploring job and volunteering opportunities.
LIFE Aims
1) Listening
2) Inspiring
3) Finding
4) Equipping
LIFE Activities
1) Listening to parents' concerns and interests through an initial contact
2) Inspiring future possibilities through one-to-one meetings
3) Finding relevant job and volunteer opportunities through signposting
4) Equipping parents with useful life skills through training courses
Anyone living in West Suffolk who is looking to return to employment, training or volunteering.
What Support Do We Offer?
Rich will arrange to meet with you either face to face, online or on the telephone.
He can help with the creation and updating CV's, covering letters, job applications and interview skills.
He can help find courses and training opportunities or opportunities for volunteering, work placements and employment.
We can also help with support and action plans to reach your goals, documentation acquisition, help with some relevant expenses in relation to progressing towards your goals as well refer / signpost to other organisations within the project who have more specialised knowledge relative to your circumstances.