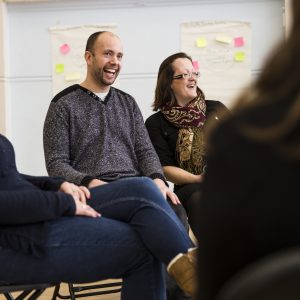 We have 3 children, a daughter who is now 12 years old and 2 sons, 9 and 6 years old.  They are all amazing and all very different from one another.
We found it hard when our daughter was born, we had a few settling down problems but after about 6 months we really began to enjoy her.
Our boys were both 'easy' babies and we thought we had parenting sussed!  Once they started running around…we realised our mistake!
Going from 2 to 3 children wasn't as hard as from 1 to 2 for us.  Our youngest just fitted in with everybody else, although you do miss that extra pair of hands.
Before we went on the Sharing Parenting course I would say we were positive, encouraging and generally calm parents but (as most parents), prone to outbursts when we were stressed. My parents (Amba) were quite dictatorial and Rich's were quite passive – I guess we were falling somewhere in between. We'd done a couple of other courses when our eldest was first born but we always found them a bit judgemental and discouraging.
We had heard good things about 'Sharing Parenting' and we had met Suzanne so we knew we already liked her style. Our first 'Sharing Parenting' course was 'Raising Children' in Newmarket, in February 2017. As soon as we walked in the room for the first session we found a nice friendly atmosphere and felt very welcomed.
The 'Raising Children course' was brilliant. The proven strategies suggested, (not enforced) were really helpful.  I felt encouraged as a person and as a parent.  It was really interesting to learn about the reasons behind behaviour too.
Going on the Sharing Parenting programmes have been a great opportunity for us to learn new things, build our confidence in what we do know and build a great community of friends who encourage us every day.
We are a busy family so we try to include lots of family time in our schedule as well as time for each individual.  We are constantly learning, you never have parenting 'sussed'!
We are now both much calmer and more confident.  I think, because we have both have done the course we understand each other and can support one another in making decisions. This has had a big influence on our children's lives too, as we think they are all more secure in their position in the family.  We are all more understanding of one another.
If you are considering doing any of the 'Sharing Parenting' courses our advice to you would be  – 'Do it!'  The courses are brilliant. Interesting, accessible and so understandable.  The support you get from other parents is so good; its great to know you are not alone.
If you would like to be like Amba and Richard and attend one of our programmes, or you would like more information, please click the contact us button below: