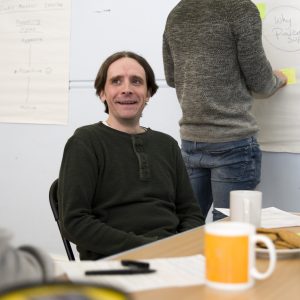 I am Dad to my 5 year old son. I first attended 'Dads Matter', at the Abundant Life Church in Lakenheath, in September 2017, when my son was 4 years old.
I hadn't put much thought into attending a dads course before but after chatting to Richard, (who ran the Dad's group), I decided to sign up to attend the 'Sharing Parenting' course. I wanted to learn parenting techniques to best serve my son, and also to network with like-minded Fathers.
Before the course I felt my parenting skills were more than adequate, my own parents offer lots of parenting support and advice and my extended family also but during the separation of my son's mother, and myself it was very difficult. The support of my friends and family helped, but it was also helpful to get advice from other parents who were not necessarily emotionally involved.
When I walked into the room for the first parenting session of 'Dads Matter' I felt excitement at pro-actively seeking out ways to improve my parenting, but also a little anxious – not knowing what to expect. I needn't have worried though – I have found the sessions excellent! Thought provoking! Helpful! and they always have a very friendly atmosphere.
I parent my son in a very similar way to how I was brought up, but in conjunction with parenting techniques learnt from the course, and from my dad-peers! It was great to learn some parenting techniques, of which, simply weren't known/employed when I was a child!
I often take a step back from the 'daily grind' to assess how my parenting style is working with my son.
My son is Autistic as well, which requires me to step back, to assess more often! and also to translate some of the techniques taught so that they are a better fit with my son's special needs.
It's very difficult to say the impact, of me doing the parenting course has had on my son, but I would hope a more confident parenting style would result in my son being more settled, and confident himself.         
I would say to other parents considering going on a 'Sharing Parenting' course – Just try it! What have you got to loose?!  If you learn just one thing that can help you be a more rounded parent, then it'd be worth it!
If you would like to be like Nick and attend one of our programmes, or you would like more information, please click the contact us button below: