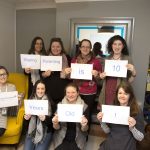 Where were you 10 years ago?
What were you doing?
What advice would you give yourself 10 years ago, knowing what you know now?
The whole of this year in 2019 we will be celebrating our 10th birthday with lots of events and ideas. If you have any of your own please do let us know – we would love to hear them. Watch this space for more on this …..