"One Mum (who came to a Pop Up) was so glad to meet me as, that day she had been really struggling …. I was in the right place at the right time, and so was she!"
You will find our Sharing Parenting Outreach Workers Amba and Amber (I know!) in lots of community areas such as Supermarkets, Community spaces, Nurseries and wherever parents and carers will be!
These Pop Up's give us an opportunity to talk to you about our programmes and parenting support and for you to find out what we do and ask us any questions you may have.
Please see our 'What's Coming up' page to find out where you can come and say hello next.
Please find below some of our Pop Ups coming up:
Venue: Tesco Newmarket, Fordham Road, Newmarket CB8 7AH
Date: The first Thursday of every month- 07/02, 07/03, 04/04 etc
Time: 12:00- 2:00pm
---
Venue: Little Fishes, Lakenheath Cricket Club, Lakenheath IP27 9AF
Date: Wednesday 30th January
Times: 8:30-9:15am
---
Venue: Kings Church Mildenhall (KCM) Toddlers, Market Street, Mildenhall IP28 7EF
Date: Thursday 31st Jan,
Times: 10:00-12:00 midday
---
Venue: Forest Academy, Bury Road, Brandon IP27 0FP
Date: Thursday 31st January
Times: 2:30-3:30pm
---
Coffee morning
Venue: Little Fishes, Lakenheath Cricket Club, Lakenheath IP27 9AF
Date:Wednesday 6th Feb,
Times: 9:00-10:00am
---
Venue: Anglia Water Smarter Drop Shop, 97 High Street, Newmarket CB8 8JH
Date: Thursday 21st February
Time: 10:00am – 12:00 midday
We look forward to meeting you.
Don't forget you can also find us (and follow or like us) on Facebook, Twitter, Instagram, and Linkedin where you can find out about where we are going, what we have been doing and where we share interesting and informative articles for parents, carers and professionals.
Please read Sharing Parenting parents stories and comments.
Please contact us for more information about any of the above or to register your interest by clicking the button below: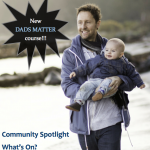 Did you know Sharing Parenting has it's own magazine called 'The Local Parent'?
Here we share articles, What's On and coming up, Community Spotlight, Parent's questions and answers and more.
We give out hard copies in Red Lodge, Mildenhall and Lakenheath but you can download your copy here: