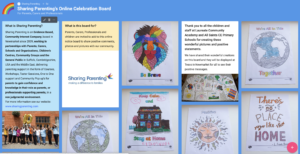 Have you seen our new online notice board?
It is a great way to share all your lovely pictures and positive comments.
The wonderful children from Laureate Community Academy Primary School and All Saints  CE Primary School in Newmarket have started us off we some wonderful posters with positive and motivating comments  – thank you to all of them and our Family Support Practitioner, Clare (who is usually based at the schools) for organising it.
The posters have also made their way out of the virtual world to Tesco, Newmarket – so please look out for them in their windows if you are visiting the store. 
You can find the online board HERE
Feel free to add to the board by pressing the pink plus sign- we would love to see your creations.
If you have any comments please contact us.