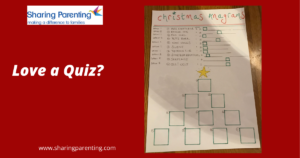 Lindsey, who takes care of our finances at Sharing Parenting kindly put together this quiz for our Christmas get together and we thought we would share it with you!
All you need to do is: 
Un-jumble the letters to reveal Christmas themed words.
Add one of the letters to the green box to work out the word at the bottom!
Good luck and remember it's just for fun!
MISS CHATTERER (2 WORDS)
DINKER HOG (2 WORDS)
POD HURL (1 WORD)
YETI DUEL (1 WORD)
NAN MOWS (1 WORD)
SILENT (1 WORD)
TOTEMS LIE (1 WORD)
STARFISH REMATCH (2 WORDS)
SERPENTS (1 WORD)
OLE! UGLY (1 WORD)
– – – – – – – – – –
ANSWERS
CHRISTMAS TREE
KING HEROD
RUDOLPH
YULETIDE
SNOWMAN
TINSLE
MISTLETOE
FATHER CHRISTMAS
PRESENTS
YULE LOG!
Well done everyone and Merry Christmas to you all x