Stay strong guys, we've done this once and we'll do it again.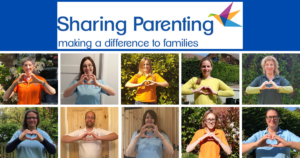 Top tips to help you and your children through lockdown (based on the Sharing Parenting 4 Cs) include:
stay CONNECTed with friends and family in which ever way you can (talk on the phone, text, Facebook, meet for a socially distanced walk, send a letter or postcard the old fashioned way!)
Feel CAPABLE, remember you still have choices. There's lots we can't do right now but write a list of the things you can!
Remember you COUNT and have value to yourself and others around you. Love yourself (fill your jug) and tell your loved ones how much they mean to you too.
EnCOURAGE yourself and others around you. Start a gratitude diary and jot down the things (or one thing) you are grateful for. If the task ahead feels too big break it up into small tasks.
Other stress busters include:
Going for a walk or getting in the fresh air
Put on your favourite tunes and sing and dance
Be creative – draw, colour in, paint, knit, sew, bake, garden (whatever makes you smile)
Relax in a bubble bath