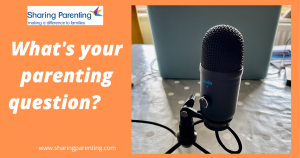 We've done it!
We've joined the world of podcasting to spread the positive parenting word to a wider audience. 
What will I hear? 
Each episode will include one or two members of the Sharing Parenting team chatting with Ginny about different parenting themes. We hope to highlight 'real parenting' issues to normalise parenting support and we will share simple and effective tips and strategies in each podcast.
What's YOUR parenting question?
We invite parents to send in their 'real parenting' questions for discussion and support. These can be shared anonymously if you prefer. Please email info@sharingparenting.com with your question and let us know if you want us to share your name.
Would YOU like to be a guest speaker?
If you are a professional working with parents and families we invite you to join us as a guest speaker. Please contact us or email info@sharingparenting.com to let us know.
Feedback 
We would love to know your thoughts about our podcasts (good or bad!) please email info@sharingparenting.com with your feedback. Thank you.
Our first episode 
Our first episode "Why do I always feel as though I am failing as a parent" can be listened to below and on Spotify and Apple Podcasts so far ….
We will be adding more episodes shortly – watch this space!