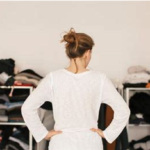 Did you know that your physical surroundings, such as your house, car, kitchen cupboards or wardrobes can have a huge impact on how you feel?
Have you ever shoved just one more item into that under- stair cupboard and walked away smiling, only to be carrying that niggling 'unfinished business' feeling the rest of the day?  Or jumped up in panic/shame when a visitor mistakenly opens the spare room door instead of the bathroom?  I have!
There's nothing I like more than sitting down at the end of a busy day with the washing up done, the laundry dealt with and the living room floor clear.  I don't know about you but I find it really hard to relax properly if there are jobs to be done.
The inside of our homes can be a good reflection of the inside of our minds.  As much as I enjoy a tidy space, I know if my day is busy and overwhelming then tidying up is the last thing I seem to have energy for…even though I know I will feel better for it.
My family life can feel better when my home is more sorted too.  There definitely is a link between my space being calm, my mind being calm and my parenting being calm!  As I'm more mindful and at peace with the world it leads me to be less aggressive (Shouting first, thinking later) and less likely to hand out irrational consequences (like no more TV EVER!).  I'm also far more likely to remain assertive, kind and fair and be able to communicate with my kids in a way they can listen to and respond well.
"When you tidy your space completely you transform the scenery around you. The change is so profound that you will feel as if you are living in a totally different world. This deeply affects your mind and inspires a strong aversion to returning to your previously cluttered state."
— Marie Kondo – The Life-Changing Magic of Tidying Up
Not too long ago we had the pleasure of meeting with Nina who runs Grand Organisers (BBC Radio Suffolk's resident decluttering experts!).
Grand Organisers are a Professional Organisational business specialising in decluttering and organising homes and offices.  They provide on-site sessions to help clear the clutter in your life, as well as virtual sessions (via Skype, FaceTime or WhatsApp) to support you through the journey.  Their aim is to help, motivate and inspire as many people as possible to reclaim order in their living and working environments.  They will provide the assistance to clear and reduce clutter and will dispose of your unwanted items if required.  Decluttering is identified as a priority for many, but the reality is a lot of people run out of time or have very little desire and energy to tackle such projects. With a sensitive approach and discreet manner, they will help you set up simple systems that are individually tailored to your needs and easy to maintain.
Here's what she had to say to help us busy parents…
Tip No. 1 – Children (and adults) are much more likely to keep areas clutter-free if items have designated homes. You've heard the old saying "A place for everything and everything in its place"? Well, that's one phrase a Professional Organiser like me lives by.
Tip No. 2 – If you find the children struggle to tidy up large areas of mess, younger children may find this a bit overwhelming, then consider designating a small bin or basket and labelling it with their name on. Sort out what belongs to whom, put the items into the basket and ask your child to put their things away.
What about if one of you is a hoarder and the other likes throwing things away, is there a happy balance?
We must remember that some people are very attached to their things and we must never get rid of another persons belongings unless we have their consent.  However, it's when those "things" start to take over areas of the house that it becomes unfair on others living in the home. In my professional experience, when a person who Hoards starts to understand how their "stuff" is affecting their loved ones, it's usually a trigger for them to begin sorting and reducing their things.
How much do you think our wellbeing is affected by our homes and lifestyle?
It is greatly affected. In my line of work I get to witness on a daily basis how living in a cluttered and disorganised environment can leave clients feeling negative, unhappy and unmotivated.  Over the last few years, we've been reading more and more about the positive benefits of living with less clutter. Another apt phrase Professional Organisers live by is "Tidy home, tidy mind" and I couldn't agree with this more. Our homes should be inviting and comforting, and a place for us to relax and be happy in, not a messy horror to face each time we step through the front door!
Nina often takes Grand Organisers on the road and runs workshops and talks around West Suffolk.  Hopefully Sharing Parenting will have the opportunity to work some more with her, if you think you would benefit from some time with Grand Organisers, let us know.
Check our Grand Organisers website for more info and some great testimonials.
If a cluttered mind is affecting you and you'd like to make some changes, here at Sharing Parenting we have just the course for you!
Check out our website for details of the latest Mindfulness and Sharing Parenting programmes happening near you.