During this period when some main offices are closed you may find these contacts useful for you or to help your children:
Fire, Police or Ambulance emergency?
Call 999           For non emergency Police Call 101
Feeling unwell?
Your local pharmacist can provide advice on most health issues.
If your GP surgery is closed, call 111 (the NHS free number) or visit www.nhs.uk to help you find the right service out of hours.
Call 999 for serious life threatening emergencies.
Need help urgently with your mental health?
If you are currently receiving care or treatment from Norfolk and Suffolk NHS Foundation Trust, use the number you have been given.
If you can't find it call 0300 123 1334 or:
Call 111 option 2 Mental health support
Samaritans call 116 123
Childline call 0800 1111
FRANK call 0300 123 660
Kooth.com for teenagers mental health they can speak to someone themselves directly too it they want.
Please also see this very informative PDF below from LifeLink to supportive with Emotional and Mental health. 
Lifelink Covid-19 Info Sheet LWM
Housing Emergency
If you have your landlords details call them if not try:
West Suffolk Council Out of hours emergency service: 01284 763252
Homeless queries
Call 01284 757178 Mon-Friday 08.45-5pm
Out of hours call 01284 763 252
Children's Social Care
0808 800 4005 (Monday to Thursday 08.00am-5.20pm (Outside these hours this number will divert to the Emergency Duty Service. They can respond to any matters that cannot wait until the next working day.
If you need support with domestic abuse.
Call 01284 753085 (Answerphone out of hours)
Domestic Violence Support
Call 0808 2000 247
Foodbanks
Vouchers can usually be picked up from Citizens Advice, your GP surgery or Council Offices
Open Tuesdays 10.30am-2.30pm, Thursdays 10.30am-2.30pm and Fridays 10.30am-12.30pm
Telephone: 01638 561711 or 01638 600699
https://newmarketopendoor.org.uk/
Telephone 01353 468626
Under 5's Support
Suffolk Children's Centres
https://www.suffolk.gov.uk/children-families-and-learning/childrens-health/childrens-centres/
Foley house (Newmarket Children's Centre)
Telephone: 01638 565533
https://infolink.suffolk.gov.uk/kb5/suffolk/infolink/service.page?id=cbxn8di4NWA
Health and Children's Centre Hub
For health advice for under 5's in Newmarket
Telephone: 0345 6078866
Worried about money, bills, benefits and anything similar.
Telephone Suffolk Adviceline: 0300 330 1151 (Monday to Friday, 9.30am-3.30pm)
https://www.buryfreepress.co.uk/news/citizens-advice-west-suffolk-closes-offices-but-continues-to-offer-support-9103183/
Help To Claim for Universal Credit 
Call 0800 144 8 444
If you are the Newmarket area: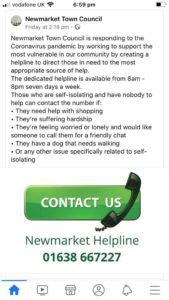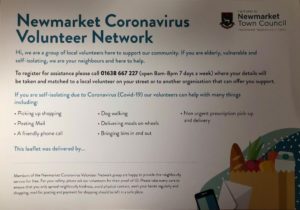 Want to Volunteer? 
Local support or volunteering Suffolk County Council
Call 0800 870 6926 
You may also be interested in: 
How to support my child at home
and
Top Tips to Keep calm with the children at home 
and
Video top tips for positive behaviour 
and 
Top Tips for helping with school closures 
and 
How to talk to your children about Covid 19 
and 
and
https://www.sharingparenting.com/2019/08/15/a-to-z-of-parenting/
You can contact us or email us with your parenting questions at info@sharingparenting.com and give us a call for confidential advice on 07867 568339.
We have done our best to collate this information for you but because of the changing climate cannot guarantee the telephone numbers above are the most up to date. If you notice an error please contact us.
Thank you and stay safe.