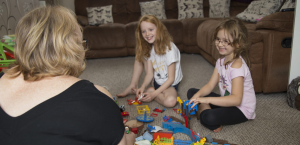 Routines and familiarity often make children feel safe. Some children find change harder to handle then others. If a child's routine changes it can make them feel anxious or sometimes angry.  They may not be able to express why they are feeling these emotions.
These top tips may help:
Let children talk through the changes, listen and ask them questions.
Be positive but also acknowledge their emotions, it is alright for them to feel sad or cross.
Try and get into some kind of a routine.
Some children will enjoy making a plan with you. Others may respond well to a visual timetable – keep it simple and be flexible.
If your child struggles to end activities, an egg timer or digital (phone) timer can help.
Allow time to relax, if children are feeling stressed/tired try and encourage some down time or mindfulness.
Be understanding, they may push the boundaries while getting use to a new routine.
Social stories can help children with communication difficulties understand what is happening (have a look online – we have some on our website too).
Keep in touch with friends via Face Time, phone calls, emails and/or send a letter.
Put in boundaries early on about how long and when they can go on gaming and social media. Too much can impact badly on behaviour. If you start with a good routine they are more likely to stick to it.
Keep active. Getting outdoors (in the garden if you have one) is great for lifting everyone's mood.
Remember – no one is perfect – be kind to your children and yourself.
You can also read lots of information on our News webpages here.
You may also be interested in: 
How to support my child at home
and
Top Tips to Keep calm with the children at home 
and
Video top tips for positive behaviour 
and 
Top Tips for helping with school closures 
and 
How to talk to your children about Covid 19 
and 
and
https://www.sharingparenting.com/2019/08/15/a-to-z-of-parenting/
You can contact us or email us with your parenting questions at info@sharingparenting.com and give us a call for confidential advice on 07867 568339.