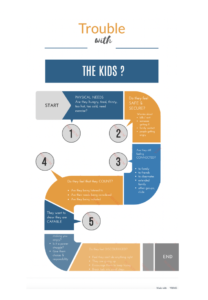 When everyone gets emotionally flooded it is difficult to see the child or teens need.
Sharing Parenting programmes are based on Adler's theory that 'all behaviour has a purpose'.
Do you often wonder why your child wants your attention as soon as you try to make a phone call? It is likely they are trying to fulfil their NEED to CONNECT with you.
At Sharing Parenting we support parents, carers and professionals to help them find the reason (or need) behind any challenging behaviour.
Have you heard of Maslow's Hierarchy of Need?
Have you ever wondered why you can't concentrate on anything when you are hungry or tired?
Maslow's theories are shown on a triangle. He said unless the NEEDS at the bottom are addressed you cannot move up the triangle.
This would explain why children are often moody when they come out of school – they are tired and need feeding! I had a friend who greeted her twins with a banana each when she picked them up from school – she knew what they needed and how to avoid challenging behaviour on the way home!
This is also why it may take a while for children (and adults) to settle in to a new house, group or job.
At first they may feel unsafe with the unknown or unfamiliar or that they don't belong – once they start making friends and getting to know a new space just watch them thrive.
Use this flow chart to help you find the NEED behind the behaviour.
You may also be interested in:
How to support my child at home
and
Top Tips to Keep calm with the children at home
and
Video top tips for positive behaviour
and
Top Tips for helping with school closures
and
How to talk to your children about Covid 19
and
and
https://www.sharingparenting.com/2019/08/15/a-to-z-of-parenting/
You can contact us or email us with your parenting questions at info@sharingparenting.com and give us a call for confidential advice on 07867 568339.