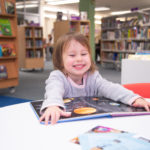 Back in 2017 we introduced schools across Forest Heath to The Hungry Caterpillar Reading Café Project. It was a great success, funded by the local authority, engaging with over 400 families offering a wide range of themed reading cafés aimed at encouraging a love of reading.
It won't come as much of a surprise to read that we believe one of the most important things to focus on, academically, during lockdown is reading.
Research has shown that children who read for pleasure every day:
develop a broader vocabulary
increase their general knowledge
develop a better understanding of other cultures
have higher levels of mental well-being
As little as 10 minutes a day can make a significant difference to a child's achievement and happiness levels.
There are no right or wrong ways to encourage reading at home – but here are a few tips to help you on your way.
All reading is good.
Don't discount non-fiction, comics, magazines, leaflets, even recipe books. Reading is reading and it is all beneficial. Help them find the right reading material to suit them. If they want to read comic books – let them. They can widen their range later – enjoying reading comes first.
Get comfortable.
Snuggle together somewhere cosy. Or make sure they have somewhere comfortable when reading alone. Turn off the TV and put your phone in another room!
Talk about it.
To keep them interested in the story, ask "What do you think will happen next?" or ask if they can remember what happened before, or what parts of the story they really like or dislike. This develops their reading comprehension.
Visit the Suffolk Libraries website
Sign up with an eLibrary – https://www.suffolklibraries.co.uk/elibrary/
The choice is enormous! Allow your child to choose their own books, encourage their own interests. All you need is a library card – and you can even sign up for one of those via email during lockdown too!
Listen together.
If you are not a confident reader yourself – don't worry, why not try audio books together, perhaps during mealtimes. Audio books are a great way to build a love of stories and improve listening skills. Suffolk Libraries' eLibrary has plenty of options available. Also, Amazon's Audible are offering free subscriptions during lockdown.
Bedtime stories.
If you don't already, now is a great chance to develop a routine to regularly read together at bedtime. It's a great way to signal the end the day, which is especially important at the moment when routines may have slipped. Take it in turns to read – one night you read to them, the next night get them to read a bit from their chosen reading book first.
Make it fun!
Just enjoy reading together. Show your child that reading can be a great way to spend free time, rather than just something that has to be done for school. Why not build an audience of soft toys to add to the theatre!
For more information about reading with your children and what books are good for different ages and stages check out the following websites are really useful:
https://www.lovereading4kids.co.uk/
http://www.wordsforlife.org.uk/
Happy Reading …
You may also be interested in: 
Stories Without Books Can Be Educational (and fun) too!
How to support my child at home
and
Top Tips to Keep calm with the children at home 
and
Video top tips for positive behaviour 
and 
Top Tips for helping with school closures 
and 
How to talk to your children about Covid 19 
and 
and
https://www.sharingparenting.com/2019/08/15/a-to-z-of-parenting/
You can contact us or email us with your parenting questions at info@sharingparenting.com and give us a call for confidential advice on 07867 568339.