Sharing Parenting is pleased to introduce Clare, our SEND Support Worker.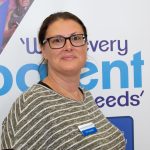 Clare runs support groups for parents with children with SEND in Newmarket, Haverhill and Lakenheath (whilst venues are closed some of these groups will be held online, please contact clare@sharingparenting.com for more information and let her know which group (Newmarket, Lakenheath or Haverhill) you are interested in.
These kinds of workshops can be sensitive if not delivered in the right way. I felt Suzanne had a wonderful way of delivering this with sensitivity whilst gently highlighting some things that may not be working in your parenting as well as being human and non-judgemental.