'Dads Matter was the perfect opportunity to meet people like myself... the fact that the course is so brilliant was a bonus!'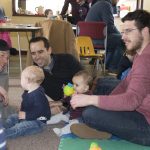 Do you want to meet other Dads?
Do you want to find out more about the 4 different roles you can play, as a Dad, in your child's life?
Do you want to help promote the positive reputation of Dads?
Of course Dads are welcome on all our programmes but this one is just for you to support the very important role of Dads in the family, including research behind that role.
For more information and support for Dads please visit Epic Dad www.epicdad.co.uk/ where Rich Keeble will be able to support or advise you.
*Course
(*Please note our face to face course have a limited capacity at this time. You can find lots of useful resources on our website such as strategies, podcasts and videos/vlogs.)
Join other Dads, who are experiencing the same challenges as you, on our popular Dads Matter course.
This is an open access parenting course, delivered once a week over 5 weekly sessions – each session is 1.5 hours.
Some of the topics you will cover on this course are:
Parenting Styles – What does being assertive parenting really mean?
The role of Dad as a Role Model – Learn how you are showing them the way
The role of Dad as a Protector – How to balance boundaries and independence
The role of Dad as a Provider – How to meet the physical, emotional, intellectual and social needs of your child/ren
The role of Dad as a Teacher – What are rights and responsibilities?
The role of Dad as a Supporter – How to build your child's self esteem and confidence
This course offers Dads an opportunity to meet other Dads, share experiences, learn from each other and get some advice and strategies to help them to support their children.
---
You may also be interested in reading Nick's story in our Parents Stories and Feedback section.
Please see our other Courses (1 or 2 hour sessions held once a week, delivered over several weeks) – Raising Toddlers, Raising Children, Raising Teens, Outside the Box (SEND), Sibling Rivalry, Let's Play, Food for Thought, Building Resilience, True Colours, Mindfulness and Confident Parents-Confident Children.
Please see our other one or half day Workshops (one off sessions delivered in one or half a day) – An Introduction to Building Resilience, An Introduction to Mindfulness, and An Introduction to Confident Parents-Confident Children.
Please see our one-off Tasters (one off sessions delivered in 1-2 hours) – Power Struggles, How To Talk So Kids Will Listen, Motivating Your Child Academically, Parenting Styles, Sibling Rivalry, Understanding Challenging Behaviour, Labelling, Effective Discipline, Birth Order, True Colours and Dads Matter.
See What's Coming Up where you can book your FREE place, meet us in the community,  contact us for more information about any of the above or register your interest by clicking the button below:
'Before I took the course I felt like I was in a bubble, just getting by day-to-day and only doing what I needed to do'
You may also be interested in Epic Dad which is run by Rich Keeble. Rich has worked closely with Sharing Parenting and is trained to deliver our Dads Matter Course. For more information please see their website www.epicdad.co.uk/