"Mealtimes are no longer a battle, I have learnt not to argue at the dinner table"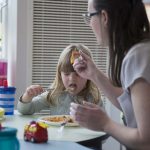 Have you started to dread mealtimes or do you find yourself asking: 
"Why won't my toddler eat the foods they used to like as a baby?"
"How can I be sure they are getting enough of the right foods to keep them healthy?"
"I'd like to know more about how to feed my children healthy foods they will eat?"
…then Food for Thought is just what you are looking for. 
Food for Thought is of particular use to families with children aged over 12 months old, where there are issues around food and behaviour and supports the promotion of a healthy diet.
*Course
(*Please note our face to face courses have a limited capacity at this time. You can find lots of useful resources on our website such as strategies, podcasts and videos/vlogs.)
You will meet with us and other parents for 2 hours, once a week for 3 weeks. 
We will look at:
Feelings around food – Where do they come from/ how can we change these?
Making changes – and how to do this calmly and on a budget

Healthy diets – what is actually good for us and our children and why?

Meal times – and the challenges around this time
The power of food and behaviour changes – How does what we eat really affect our and our children's behaviour?

The final session gives parents the opportunity to prepare a healthy meal or snack.
---
Please also read our Sharing Parenting Stories and Feedback from other parents who have attended our programmes.
Please see our other Courses (1 or 2 hour sessions held once a week, delivered over several weeks) – Raising Toddlers, Raising Children, Raising Teens, Dads Matter, Outside the Box, Sibling Rivalry, Let's Play, Building Resilience, True Colours, Mindfulness and Confident Parents-Confident Children.
Please see our one or half day Workshops (one off sessions delivered in one or half a day) – An Introduction to Building Resilience, An Introduction to Mindfulness, An Introduction to True Colours and An Introduction to Confident Parents-Confident Children.
Please see our one-off Tasters (one off sessions delivered in 1-2 hours) – Power Struggles, How To Talk So Kids Will Listen, Motivating Your Child Academically, Parenting Styles, Sibling Rivalry, Understanding Challenging Behaviour, Labelling, Effective Discipline, Birth Order, True Colours and Dads Matter.
See What's Coming Up where you can book your FREE place, meet us in the community,  contact us for more information about any of the above or register your interest by clicking the button below:
"I have gained new ideas on how and what to feed my children"