"I feel much more confident when dealing with my children's arguments now"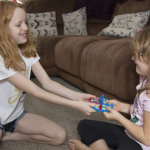 Do you feel you are always playing referee to your children?
Do you often ask yourself :
"Why do they always argue when I leave the room?" 
"How can I support my children to get along with each other?"
…then this is the course for you 🙂 
Suzanne gives a sample of the course below: 
---
*Course
(*Please note our face to face courses have a limited capacity at this time. You can find lots of useful resources on our website such as strategies, podcasts and videos/vlogs.)
Sibling Rivalry Module targets any parents (and in our experience this is all parents with more than one child!), who are experiencing issues with siblings in the family and consists of two, once a week, two hour sessions.
The aim of the course is to explore the underlying reasons behind why siblings fight and to share some effective strategies for handling sibling rivalry.
Some of the topics you will cover include:
Roots of sibling rivalry – is it natural?
Fears about sibling rivalry – is it harmful?
Triggers to sibling rivalry – how can I avoid it and have a calmer household?
Effective strategies for handling sibling rivalry
Please also read our Sharing Parenting Stories and Feedback from other parents who have attended our programmes.
Please see our other Courses (1 or 2 hour sessions held once a week, delivered over several weeks) – Raising Toddlers, Raising Children, Raising Teens, Dads Matter, Outside the Box, Let's Play, Food for Thought, Building Resilience, True Colours, Mindfulness and Confident Parents-Confident Children.
Please see our one or half day Workshops (one off sessions delivered in one or half a day) – An Introduction to Building Resilience, An Introduction to Mindfulness, and An Introduction to Confident Parents-Confident Children.
Please see our one-off Tasters (one off sessions delivered in 1-2 hours) – Power Struggles, How To Talk So Kids Will Listen, Motivating Your Child Academically, Parenting Styles, Sibling Rivalry, Understanding Challenging Behaviour, Labelling, Effective Discipline, Birth Order, True Colours and Dads Matter.
See What's Coming Up where you can book your FREE place or contact us for more information about any of the above or register your interest by clicking the button below:
"I have learnt how to diffuse the situation before it escalates into a full blown fight - the house is much quieter now!"