"I realise now that I have to change MY behaviour in order to change my children's"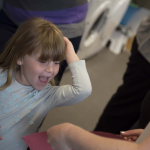 Do you often ask yourself: 
"How can I support my child when they fall out with their friends?"
"How do I know my child will be able to pick themselves up on the not so good days?"
"How can I prepare my children for their future?"
Often, children find it difficult to bounce back and pick themselves up when they have experienced a difficult situation, for example, falling out with their friends, finding a school task challenging or a family breakdown or loss. Join us to find out how you can support your child through life's ups and downs. 
Building Self Esteem in Children 
*Course
(*Please note our face to face courses have a limited capacity at this time. You can find lots of useful resources on our website such as strategies, podcasts and videos/vlogs.)
You will meet with other parents or carers once a week for 3 weeks, during 2 hour sessions and you will cover:
The characteristics of resilient children – What makes some children cope and others fall apart in the same situation?
Building blocks for resilience – How you can support your children to prepare for the not so good days
How to foster resilience in children and families – How you can prepare and support your whole family for the normal ups and downs in everyday life
Equip your young people, over the age of 4 years old, with the capacity to have COURAGE, MOTIVATION to move forward, the power to stay CENTERED have the awareness and CONFIDENCE to ACCEPT THEMSELVES, the TENACITY to accomplish their goals and the WILLINGNESS to share feelings.
---
Please read our Sharing Parenting Stories and Feedback from other parents who have attended our programmes.
Please see our other Courses (1 or 2 hour sessions held once a week, delivered over several weeks) – Raising Toddlers, Raising Children, Raising Teens, Dads Matter, Outside the Box, Sibling Rivalry, Let's Play, Food for Thought, True Colours, Mindfulness and Confident Parents-Confident Children.
Please see our Workshops (one off sessions delivered in one or half a day) – An Introduction to Building Resilience, An Introduction to Mindfulness, and An Introduction to Confident Parents-Confident Children.
Please see our Tasters (one off sessions delivered in 1-2 hours) – Power Struggles, How To Talk So Kids Will Listen, Motivating Your Child Academically, Parenting Styles, Sibling Rivalry, Understanding Challenging Behaviour, Labelling, Effective Discipline, Birth Order, True Colours and Dads Matter.
See What's Coming Up where you can book your FREE place, meet us in the community,  contact us for more information about any of the above or register your interest by clicking the button below:
"I feel like we have broken through barriers that were hard to crack"